I'm a little bit hesitant to write this post because I don't have that much photos, which explains why this is  a long overdue article. However, I feel that I need to share my experience with White Knight Hotel in Intramuros especially to those who want to stay in a clean, decent and safe hotel in the capital.
So, please forgive me if I can't share a tons of photos. I'll let my words create the best picture for this hotel in Manila and hopefully you will be satisfied with my own review of White Knight Hotel.
I was in Manila with my seven-year old and took the earliest flight (hubby followed later that night) for the Alaska Cup in Ayala Alabang. Our plan was to stay at Remington Hotel because I wanted to check the new mall and Resort's World. Sadly, we were on the waiting list that I had to ask and bug  another parent, who got a room to check on our status.
We left our bags at the airport and we went to Fort Santiago (click here to read our tour in Fort Santiago). So tired and unsure when I was asked to check again at 6:30 that I decided look for another hotel with a heavy heart. And it was already 4pm, my kid was already pleading, " Mama, let's go to the hotel".
Which one? And the rate? My husband was also bugging me on the phone because he already booked us in a hotel in Makati but I insisted on trying Remington.
And I called White Knight Hotel Intramuros. Thank God, they still have a room within my poor budget. hehe. How did I learn about White Knight Hotel in Intramuros?
I will sound like a broken record but I love history and as odd as it may sound to my friends living in Serendra, I want to spend a night in Intramuros. I have checked hotels in Intamuros before and one of them is White Knight. The reviews were good, so let's go. And my son loves Intramuros!
From the airport, where we left our things, we took a cab to White Knight. I had a bad experience with another driver and this time, he was a Cebuano. I felt safe  inside his airport cab. Sorry, I'm guilty of regionalism. 😉
Fist impression, it was very small indeed but when we entered the lobby, it was very homey and there was wedding reception. I heard it is a family-run hotel. There are no elevators because the hotel is a two-story structure. It looks old but the carpet was not smelly. Then, the staff showed our room. Sorry no photos! I was so tired, when I got my energy back, room was already messy. hehe.
This is the only picture I can share. The small terrace with views of old building inside the Walled City.
Our room was spacious enough with plenty of storage options, perfect for the 2,700++Php rate, offering basic amenities. What is very important for a freelance travel writer like me is Wi-Fi and they got a stable connection. I just hope they have a hair dryer. 😉
We washed up and explored Intramuros that night. We ate at McDonald's  ( read: budget cut) with college students in every table and found the cannons fronting Bayleaf Hotel with a good view of Manila City Hall. My kid was still crazy about the cannons, too bad it was dark.
Sorry for the very blurry photo but I wish to do this again!
It was already drizzling and we have to buy some stuff in the nearby 7-Eleven for my kid's game the next day. A few minutes after we came back to our room, the front desk called to tell me my husband arrived.
A little ranting about the taxi driver he had, my husband commends the hotel. He is a frequent traveler, staying in almost all high-end hotels in the Metro and I was shy that he has to stay in a budget-friendly hotel like this one. But he likes the hotel – the rate and the lobby ambiance! Yes! He always judge a hotel based on the lobby. I think he forgave me for choosing a good alternative 😉
We left early the next day for my son's 7am game in Ayala Alabang. The staff was able to hail a good taxi driver who was fine that we have to drop our bags in our hotel in Makati first, the one my husband originally booked ( I'm a difficult wife. hehe).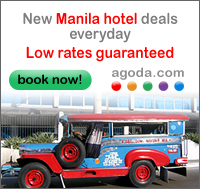 But it was not the end of our White Knight experience. After the game, I realized that we left my son's sneakers at the hotel! Have to call them again and it was still there. Whew! My son had to wear his football shoes in Greenbelt before we got a cheap pair. hehe.
We went to Intramuros again ( thrice) the next day, to pick up his shoes, before we went to Manila Ocean Park ( click here for our Manila Ocean Park Adventure) and fly back home. The staff was friendly and even asked about my son's game. It was actually great because I had a chance to check out the property, love this kind of places.
So, I would like to thank White Knight Hotel for a pleasant stay. Our stay was short, but it was a refuge from the heat, traffic, bad drivers and hotel uncertainties.
I'm writing this post to tell you that this is a good hotel to stay in Manila. The rate is really cheap, the most affordable for me in Manila, weighing in safety, cleanliness and service. A good find, in the midst of Manila. If you planning to stay close to Intramuros, Binondo or anywhere in Manila, you might want to check out White Knight Hotel.
Check out this virtual tour of White Knight Hotel in Intramuros!
Have you stayed at White Knight Hotel in Intramuros? Tell me your experience!

Read more about our Manila trip: